Next Generation Cinema Camera for High End Digital Film!1
Introducing a new generation in cinematography! The new Blackmagic Cinema Camera 6K is an extremely high end digital film camera that produces precise skin tones and rich organic colors. The camera features a massive full frame 24 x 36mm 6K sensor with wide dynamic range, a very flexible L-Mount for lenses and a built in optical low pass filter that's custom designed to match the sensor. You also get fast CFexpress media and the camera can even use Pocket Cinema Camera accessories! When you are doing cloud and mobile work, the camera records both deep bit depth Blackmagic RAW and H.264 proxies at the same time! No other camera includes this level of technology, image quality and portability!
Get the "Hollywood Look" with Digital Film!
Blackmagic Cinema Camera 6K has the professional features you need for feature film, television programming and documentaries, however now this same quality can be used to create cinematic content for social media, YouTube videos and more! You get the same features found on high end digital film cameras, allowing capture of deeper colors, higher image detail and a wider dynamic range between the brightest highlights and deepest shadows. It's the reason why feature films look so amazing and now you can get the same high end production values for any kind of work. Imagine shooting with large format digital film on low budget independent films, TV commercials or even corporate video!

Large Format Cinematic Digital Film Sensor!
Blackmagic Cinema Camera 6K features a massive full frame sensor with a native resolution of 6048 x 4032. That's almost three times larger than a Super 35 sensor and allows you to shoot with a shallow depth of field or to use anamorphic lenses uncropped for a true cinematic look. Whether you're shooting in bright sunlight or in almost no light at all, the 13 stops of dynamic range with dual native ISO up to 25,600 provide stunning low noise images in all lighting conditions. Plus you can shoot up to 36 fps at full sensor resolution or 120 fps windowed. This amazing sensor combined with Blackmagic color science means you get the same imaging technology as expensive digital cinema cameras.
Full Frame Flexibility
The large full frame sensor in Blackmagic Cinema Camera 6K lets you work in a variety of film formats and aspect ratios without sacrificing quality! Using the full area of the sensor gives you a unique open gate 3:2 image which also lets you reframe your shots in post production. The large sensor also lets you work in true 6:5 anamorphic without cropping, making widescreen cinematic images more detailed and in higher resolution than previously possible. You can even use the classic Super 35 sized window on the sensor to create an instant 'close up' version of your shot that fits seamlessly with open gate footage. All this lets you create distinctive cinematic content in the highest quality!
Shoot Incredible High Dynamic Range (HDR) Images
The distance between the lightest and the darkest parts of an image is called dynamic range and is measured in stops. Blackmagic Cinema Camera 6K has an incredible 13 stops of dynamic range which means it preserves more detail in the lightest and darkest areas of an image than simple video cameras can. This allows you to set exposure for an indoor scene such as a cafe and still retain the details of bright outdoor light coming through a window. You also get more colors than the standard DCI-P3 colorspace used for feature films. Plus DaVinci Resolve Studio is included with the camera, so you get total creative freedom with full exposure adjustment and recovery controls when color grading!
Dual Gain ISO for Exceptional Low Light Performance
In digital film ISO is a measurement of the image sensor's sensitivity to light. This means the higher the ISO number the more sensitivity to light so it's possible to shoot using natural light even at night! The Blackmagic Cinema Camera 6K features dual native ISO up to 25,600, which means it's optimized to minimize grain or noise in images, while maintaining the full dynamic range of the sensor. The native ISO of 400 is ideal for scenes with on-set lighting. The secondary high base ISO of 3200 is perfect when shooting in dimly lit environments. The gain is set automatically as you adjust the ISO setting, so it's easy to capture great images when you don't have time to set up lights.
Multiple Resolutions and Frame Rates
Blackmagic Cinema Camera 6K can shoot in all standard resolutions and frame rates from HD up to DCI 4K and even 6K. You can even shoot stills at 24.6 megapixels! Blackmagic Cinema Camera 6K will shoot up to 36 fps at 6048 x 4032 3:2 open gate or 60 fps at 6048 x 2520 2.4:1 and 60 fps at 4096 x 2160 4K DCI. For higher frame rates you can window the sensor and shoot up to 100 fps at 2112 x 1184 Super 16. You can even work in true anamorphic 6:5 at much higher resolutions than other cameras using anamorphic lenses in 4.8K 24 fps at 4838 x 4032. You can even shoot 120 fps in 1080HD! With Blackmagic Cinema Camera 6K, you'll always be able to shoot the right resolution for the job!
Lightweight Carbon Fiber Polycarbonate Composite
The elegant design of Blackmagic Cinema Camera 6K packs an incredible number of high end digital film features into a miniaturized, handheld design based on the Pocket Cinema Camera platform. Made from lightweight carbon fiber polycarbonate composite, the camera has a multifunction handgrip with all controls for recording, ISO, WB and shutter angle right at your fingertips. Because it's an advanced digital film camera, the sensor is designed to reduce thermal noise allowing cleaner shadows and higher ISO. Plus the large 5″ LCD makes it possible to get perfect focus at 6K resolution. You also get a removable battery door, 4 shock proof microphones, heavy duty lens mount and built in speaker.
Fingertip Shooting Controls
The front and top of the Blackmagic Cinema Camera 6K features record start/stop and still photo buttons along with dedicated controls for iris, ISO, white balance and shutter speed. The main power switch is located on the top next to a row of 3 customizable function buttons.
Back Panel Controls
Conveniently placed below the right thumb rest, you can quickly change shooting speed with the high frame rate button, zoom into the image with the magnifying glass, access setup menus and quickly play back shots for review.
Multifunction Grip with Fingertip Controls!
The multifunction handgrip features an ergonomic design that puts important functions such as ISO, WB and shutter buttons at your fingertips. There's even a scroll wheel under your index finger for making quick iris adjustments! Additional controls go beyond those found on a DSLR, which means you don't have to go hunting through menus on a tiny screen to find a command! The Blackmagic Cinema Camera 6K features easy to reach recording and still buttons that are placed exactly where you expect, including user assignable function keys allowing buttons for high frame rate, focus zoom, false color and more.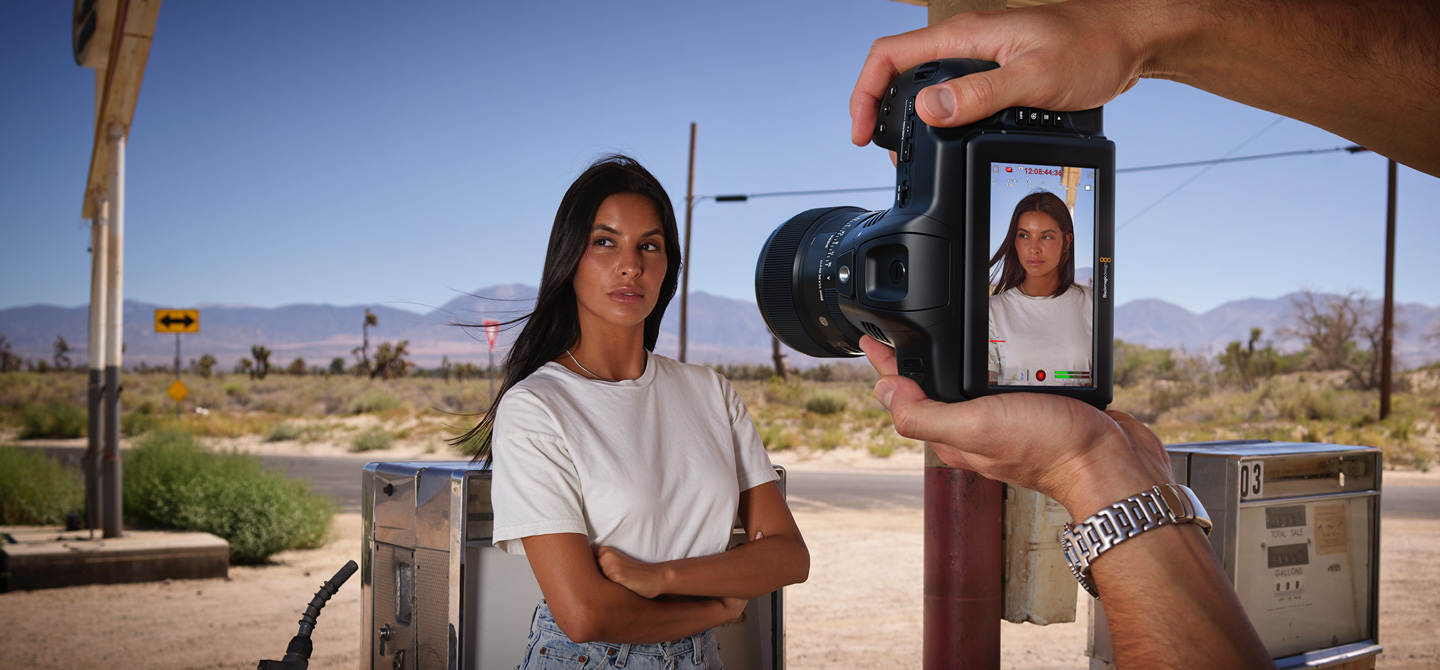 Shoot in Vertical Aspect Ratio!
Now you can easily create cinematic content for TikTok, YouTube Shorts and more! Simply rotate the Blackmagic Cinema Camera 6K to shoot vertical aspect ratios such as 9:16 and 4:5. The on screen HUD rotates so critical information, such as frame rate, shutter angle and frame guides, are easy to view, even when the camera's turned upside down! You can even switch on frame guides so important details stay in shot for different aspect ratios. When you import your files into DaVinci Resolve, clips are automatically tagged as vertical so they appear correctly in your timeline. Once you've finished your project, it's easy to upload to your channel with direct exporting to TikTok and YouTube!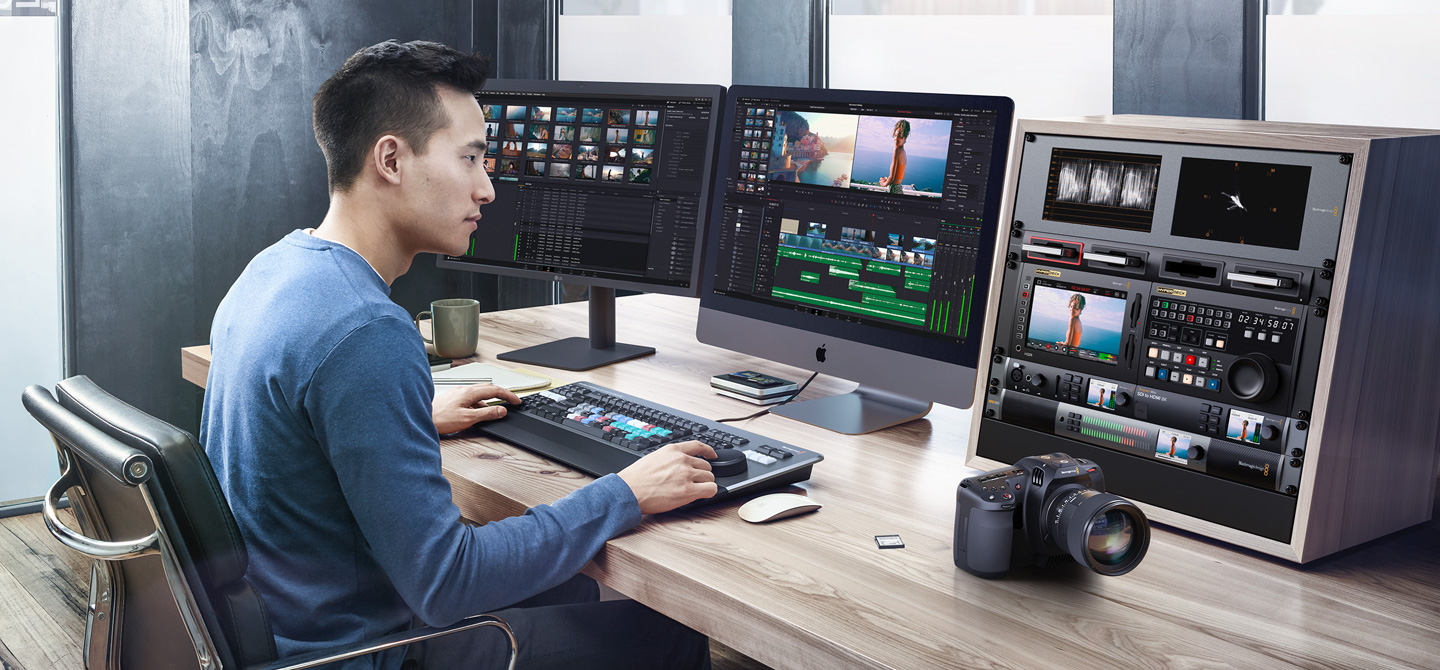 Post Production Friendly File Formats!
Blackmagic Cinema Camera records in Blackmagic RAW to preserve control of detail, exposure and color during post production. It also records HD H.264 proxies in real time making it easy to share media around the world in minutes! Blackmagic RAW is highly optimized, multi‑threaded, works across multiple CPU cores and is also GPU accelerated to work with Apple Metal, CUDA and OpenCL. This means your images always maintain unprecedented resolution and quality for color, keying, compositing, reframing, stabilization and tracking in HD, 4K or 6K. Media files work on all operating systems plus you can format media cards and disks in HFS+ for Mac and ExFAT for Windows.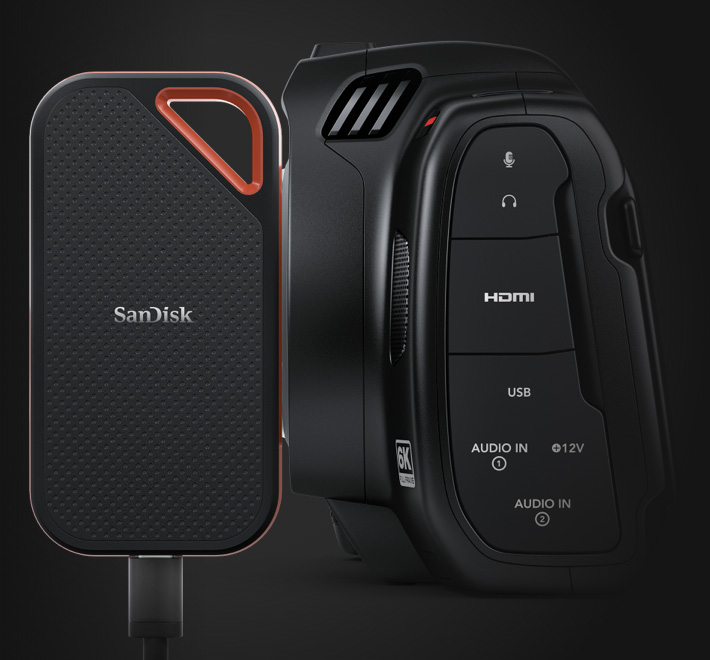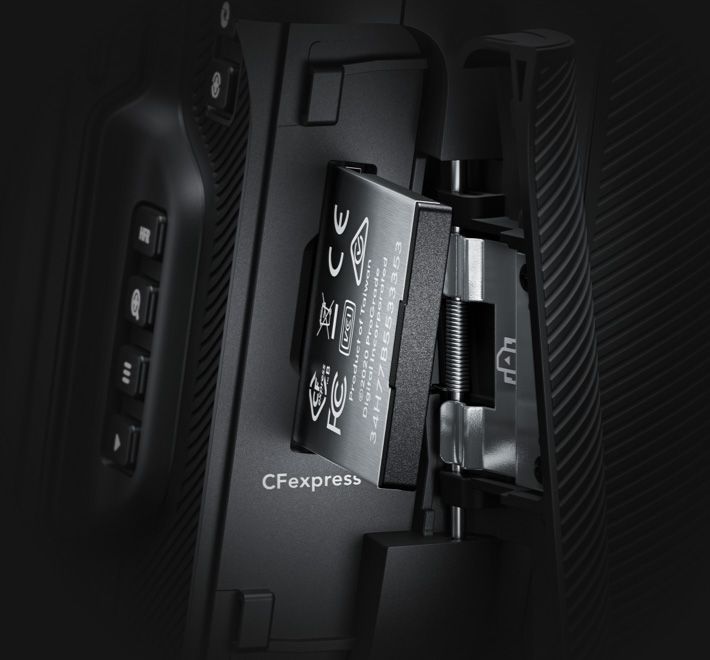 Record to CFexpress Cards or External Disks!
The Blackmagic Cinema Camera 6K features a built in CFexpress card recorder, and a USB-C expansion port for recording direct to external flash media disks or an SSD. CFexpress media are more durable and faster than even older media so are perfect for recording full resolution, 12-bit Blackmagic RAW files. Imagine capturing over an hour of full resolution 6K images on a single 256GB CFexpress card! The very high speed of CFexpress cards makes them perfect for mounting on your computer and editing directly from them using the included DaVinci Resolve Studio software!
In the Box
Blackmagic Design Cinema Camera 6K (Leica L)
Lens Port Cap
Camera Strap
Locking Power Supply with International Adapters (30W)
Sony L-Series Type NP-F570 Battery
L-Series Battery USB Charger
DaVinci Resolve Studio Activation Key
Limited 1-Year Manufacturer Warranty
Image Shown with Optional Equipment (Not Included)